Unlock intelligent technology
Put simply, 3DCIM is Data Centre Infrastructure Management (DCIM) finally done properly. Bringing together the expertise of two industry leaders, Assetspire has partnered with EkkoSense to create an intuitive and integrated alternative to traditional DCIM; finally providing a solution to many of its long-held limitations and issues. Get instant access to the data you need with intelligent visual management, while reducing your business costs and risks.
Why do I need an alternative to standard DCIM?
Traditional DCIM has always been hampered by inaccurate data, offering only basic mechanical and electrical asset management capabilities. Many organisations are still massively held back by these flawed and cumbersome systems.
Assetspire have discovered that businesses using outdated DCIM may actually be grossly underestimating the value and number of their assets – by as much as 60%. Complicated legacy asset management solutions soon become limited in their application and abilities – inevitably increasing business costs and your time spent managing them.
But all is not lost – 3DCIM is the new, innovative option that outclasses any overpriced and outdated alternative with future-proof capabilities. With 3DCIM you gain immediate visibility of all your enterprise assets and true, real-time operational insights into the heart of your data centre's capacity, power and cooling performance.
How will my business benefit from 3DCIM?
3DCIM is the latest intelligent technology integration your business needs to efficiently utilise asset and capacity management and unlock potential energy and cost savings.
3DCIM is DCIM done well. You benefit from two first-rate solutions that provide instant, rapid access to the answers that much more expensive and complex DCIM solutions consistently fail to deliver. 3DCIM is DCIM that works, without the hassle.
Full remote access and visibility
3DCIM brings real-time visibility of both data centre cooling, power and capacity performance as well as comprehensive asset management. Full remote access via mobile devices delivers 24x7x365 peace of mind and reduced risk.
3DCIM enables new levels of accuracy and granularity
Spire™'s functionality supports 100% asset accuracy, while EkkoSoft Critical's comprehensive detection unlocks significantly greater granularity than old-fashioned DCIM approaches.
Flexible SaaS architecture with full API integration
Both EkkoSoft Critical and Spire™ feature a SaaS delivery model, flexible architecture and API integration – ensuring a future-proof platform for 3DCIM integrations.
Highly customisable asset control platform
All of your assets, easily managed in one place. Our Spire™ customisable asset control platform enables the fast and accurate capture of any data centre asset – serving as a centralised data management solution across DCIM, CAFM and CMDB environments.
Facilities management support
Our next generation infrastructure management offering extends beyond just data centre white space. 3DCIM embraces key CAFM, CMDB, BMS and Mini-BMS environments. Full, real-time visualisation is why 3DCIM is the perfect go-to optimisation and asset management solution for operations teams.
3DCIM benefits come at a fraction of the cost of more expensive and complex legacy DCIM solutions. On average, ROI can be achieved in less than 12 months through data centre cooling energy savings, optimising capacity, smarter asset management and reducing the need for additional cooling equipment Capex spending.
Other 3DCIM benefits include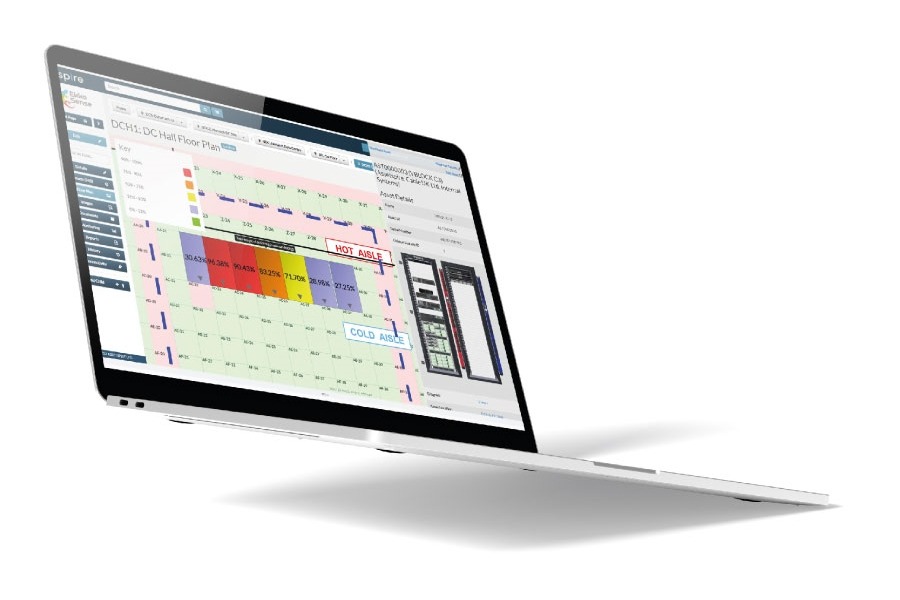 What makes EkkoSense and Assetspire a great partnership?
EkkoSense's proven EkkoSoft Critical 3D visualisation and analysis solution makes it simple for operations teams to collect granular and real-time thermal, power and capacity data. With 25+ years of experience in data centres and PHD-level Thermal, Software and Electronics engineers, EkkoSense has deployed at over 500 sites globally, saving 50,000 tonnes of C02e and an average energy saving of 30%.
Assetspire's highly-configurable Spire™ asset management platform enables fast and accurate capture of any data centre asset. Spire™ is intuitively engineered to ensure data is captured and maintained quickly and accurately, serving as a central data management solution across DCIM, CAFM and CMDB environments. Our mission is to address the real issues around asset management – and provide intelligent solutions.
Need an intelligent solution for your business?
Try a free demo with us today.