First introduced in 1974, barcodes have been used in businesses ever since to improve data accuracy and inventory management.
But, with advancements in technology, barcodes have become more and more widespread among most consumer and business markets.
What's so great about using barcodes for asset tracking? Low running costs and ease of use are among a few of the attractive attributes of barcoding. And there are many options to choose from to suit your industry.
The Benefits of Tracking Assets with Barcodes
The advent of tagging technology and advanced software solutions have made asset tracking and management more accessible than ever before, benefiting businesses of all types and sizes.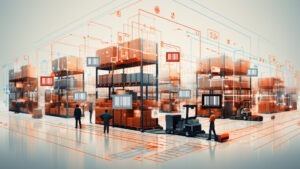 For asset-intensive enterprises that depend on their assets to generate revenue, the implementation of an asset tracking system is now crucial.
Like other tracking solutions RFID and NFC, barcode asset tracking offers multiple benefits for businesses in need of help managing their assets.
Cost-Effective Asset Tracking
Whether you choose to print your own or purchase them, barcodes are a cheap and effective tracking solution.
For businesses with warehouses packed to the ceiling with valuable inventory, the low up-front costs of barcodes make them extremely attractive. And even for low value items and equipment they're still a popular and straightforward form of tracking.
Improved Speed and Accuracy
Barcode scanners and asset tracking systems can speed up workflow processes, not to mention the reduction in error rates that comes from automating what once was a tedious and slow process done by hand.
In fact, the few-second-long process of scanning a barcode and retrieving an asset's data can be as much as five to seven times faster than manual entry.
Inaccurate inventory contributes to potential lost sales. So, it's pretty clear that accuracy is crucial for asset-intensive businesses.
Reduction in Human Error Rate
Manually entering data sets itself up for inevitable human error – the main cause of incorrect information. These errors can go unnoticed until it's too late.
Inaccurate manual barcoding is estimated to cost the UK around £500 million and £1 billion per year.
Whether manual barcoding means spreadsheets or pen and paper, the average error rate is 1 per 300 characters. Compare that to the error rate of a barcode scanner and you get an error rate of just 1 in 36 trillion characters. A significant difference.
No Training Required
Really easy to use, barcode asset tracking systems require no training. The barcodes themselves are self adhesive and can be placed on just about any item throughout the workplace.
Then it really is as simple as pointing the reader at the label and scanning it. The asset management system will do the rest for you.
What Are the Alternative Asset Tracking Options?
2D Barcodes
Traditional barcodes are considered 1D and can hold up to 85 characters of data. 2D barcodes such as QR codes can hold up to 2000 characters of data. While QR codes and other 2D barcodes are slightly more expensive alternatives, what is best for your business depends on how much information you require your barcode to hold.
Can hold more characters or data than 1D barcodes.
More durable and can operate even with substantial damage, with as little as 30% of the code needing to be intact. Whereas 1D barcodes are completely unusable with just a small tear or crease.
Can be scanned at various angles, unlike their 1D counterparts that require face-on scanning.
RFID Barcodes
Radio Frequency Identification, or RFID, reads and writes data using chip and wave technology. No more accurate than 1D barcodes and much more expensive and time consuming, RFID does offer:
Further range of scanning, up to 15 metres and no line of sight required
Can scan multiple tags at once
Designed for adverse environments and difficult to damage
Can hold up to 4 million characters
GPS
Also known as Global Positioning System, GPS trackers actively track assets while in transit by communication with satellites. Although you get real-time location data, GPS tagging is expensive and only relevant to logistics and transport industries.
NFC
Near Field Communication is highly efficient and popular as it can be used on smartphones for making payments. No additional training for staff is required, NFC tags can be used outside in adverse weather conditions and enables users to register data in real-time. However, it can be an expensive option.
How Does Barcode Tracking Work With Asset Management Software?
Barcode tracking is the way forward if your business isn't already utilising it. It can be even more efficient when combined with asset management software. Such a simple system can then be expanded to capture vast amounts of information on every element of your assets, improve accountability and compliance, reduce unnecessary labour costs and human error and eliminate missed maintenance schedules.
And, here's where it gets really smart. Get live stock control for all assets via a simple barcode check in/check out function on our asset management platform, making it quick and easy to maintain stock levels.
It also includes GS1 compliant tagging, allowing users to generate automated low stock level alerts and provide visibility of stock that has a short shelf life remaining.
These reports can detail and show trends and spend on asset types over time to help with future budget planning.
Are You Ready to Streamline Your Asset Management System?
Get full visibility of exactly what assets you have, where they are and how they are being utilised, giving invaluable insight into departmental and specific asset spend.
What's even better? When you are part of the Assetspire family, you can access all this information from a user-friendly app. The 'quick add' function allows you to apply barcodes or scan existing barcodes with speedy data capture.
You don't even need a barcode scanner, your phone can do it for you. You can manage all your assets, any time of day, anywhere and by any member of staff. Or access information such as where an asset is and who has it or had it last, check in/check out statuses, maintenance schedules, purchase information and more, even when you're miles away.
Join our other successful client and save time, money and improve the efficiency of your asset management processes with Assetspire.
Related Post: RFID vs Barcode: Which is Better for Asset Tracking and ROI?