As data centres continue to grow and carbon emission restrictions become tighter, the need for deeper insights and accurate data on energy usage, capacity and sustainability with DCIM (Data Centre Infrastructure Management) becomes greater than ever.
Having the overall visibility into critical infrastructure is vital to monitor energy consumption, server capacity, cooling performance and more. And, critically, having a highly efficient IT infrastructure means minimal downtime and maximum savings.
Data centres need to make a decision between keeping on-premise DCIM versus introducing cloud-based DCIM, and which one is best for them.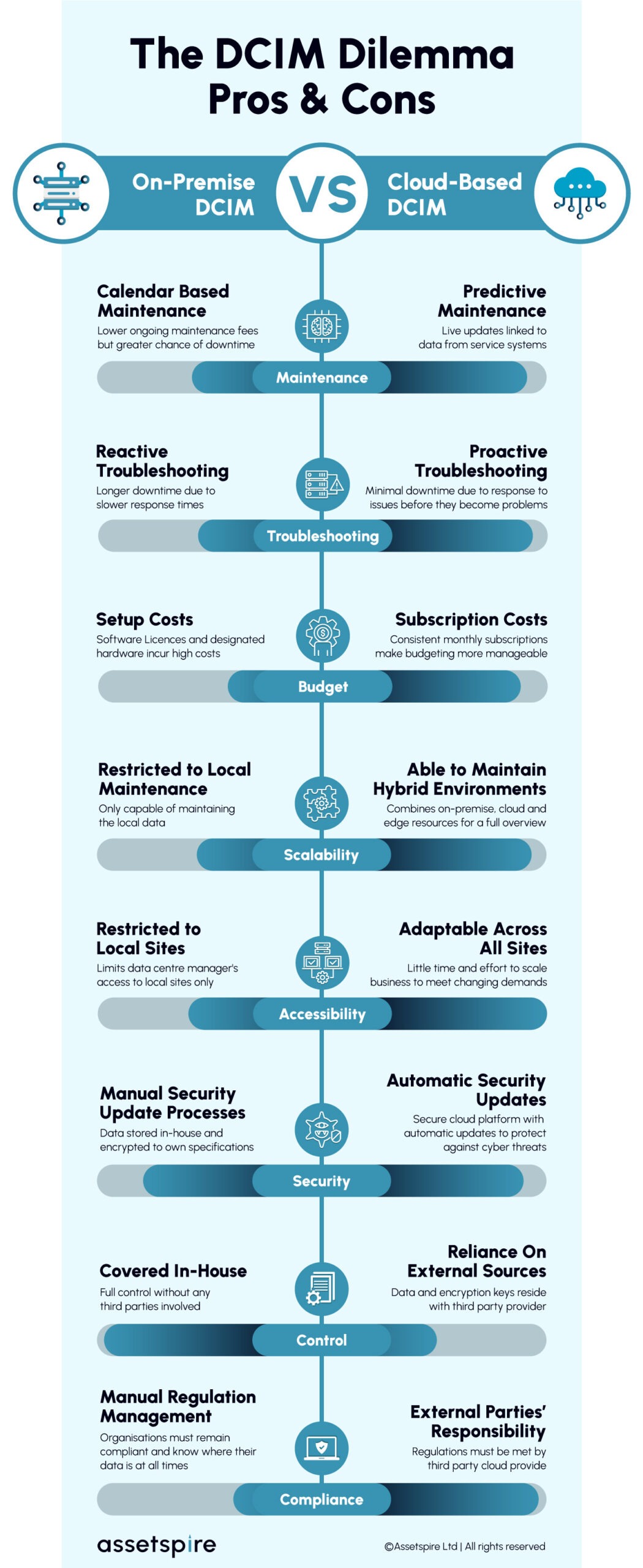 Premise-based DCIM
On-premise DCIM uses sensors to capture data across the infrastructure on capacity, data centre cooling, airflow, power consumption, temperature, humidity and security.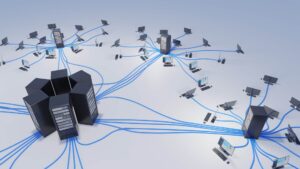 Without this data centre monitoring, errors, wasted energy and outages can occur leading to huge losses of hundreds of thousands of pounds alongside disruptive downtime. But it's not all about money. Downtime prevents users from accessing resources and can lose businesses their customers.
Once you have full insight across your entire data centre, you will have access to information such as when something is wrong. DCIM will send alerts so a technician can get to the root of the problem quickly and, with any luck, before it ends in downtime.
What Can On-Premise DCIM Offer that Cloud-Based DCIM Can't?
Control: Data centres have full control over data without any third parties involved.
Secure:Information is kept on-site meaning you don't have to use an outside network and your data can be encrypted to your own specifications.
Flexibility:The best option for customisation to fit within existing policies and processes.
Faster integration: Integrations of data between internal systems will be faster.
Cheaper maintenance:Base entirely on-premise means lower ongoing maintenance fees.
Cloud-Based DCIM
If you want all the functionality of on-premise DCIM with the addition of the ability to manage distributed IT environments, cloud-based DCIM can offer increased visibility alongside machine learning capabilities, significantly improving uptime.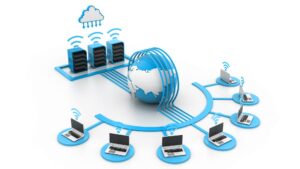 This extra level of functionality allows technicians to fix a problem before it evolves into an outage and dreaded downtime. Server data can offer a greater insight into power usage to improve operations, especially when cloud-based DCIM is combined with artificial intelligence (AI) and machine learning.
With such decision making possibilities, you can see at a glance which servers are using too much energy, wasting resources or being overcooled. Outdated and obsolete equipment can be discovered and replaced, allowing for optimum efficiency of the remaining fully functioning servers.
Machine learning collects data and analyses patterns to predict what is normal and what is not. If something strays from the norm, such as overheating servers or faulty cooling equipment, DCIM issues an alert for technicians to look into, prolonging an asset's life, removing risk of failure and ensuring uptime and business continuity.
The Benefits of Cloud Based DCIM Over On-Premise DCIM
Cloud-based DCIM offers everything on-premise DCIM can offer and more. Here's exactly what cloud-based DCIM can do over on-premise:
Predictive maintenance:Decrease the chances of unplanned downtime with maintenance linked to data from service systems rather than following a maintenance calendar.
Minimal downtime: Become more proactive and less reactive by responding to issues before they become problems.
Easy to use: Simple to deploy and use with a user friendly interface.
Simple: Streamlines increasingly complex hybrid environments by merging on-premise, cloud, and edge resources.
Improves mobility:Access data across all IT sites anytime and anywhere.
Simplified IT budgets:Consistent monthly subscriptions make budgeting for hardware and software costs much more manageable.
Scalability:It takes little time and effort to scale your business to meet changing demands.
Regulatory compliance: Government and industry regulations must be met by the third party cloud provider.
The Great Security Debate
The jury on security is still out.
Many believe that on-premise DCIM is the safest option with data stored in-house with no outside network involved and encryption is to your own specifications. Not only that, you gain greater accountability with support from GDPR, HIPAA and PCI, which cloud environments may not comply with.
On the other hand, modern cloud-based DCIM also offers a secure platform where data is encrypted at rest and in transit with compliance options and automatic security updates, offering substantial protection against cyber threats.
Whichever type of DCIM you choose, Assetspire is here for you. Our flexible DCIM software solution is fully able to integrate with your current set up, and can be applied easily and quickly to both on-premise and cloud-based facilities. With smart apps and clear, accurate data at your fingertips, you can guarantee your assets are up to date, working efficiently and where you expect them to be! Contact us today to see what all the fuss is about and get a free software trial.