From the smallest Edge facility to the largest hyperscale data centre, implementing a true digital twin can not only completely transform your asset and data management abilities, but also give you 360° vision across your facility, whilst allowing you to hit your sustainability and environmental targets in one hit. It's essentially x-ray vision for data centre managers.
The use of digital twins is found across almost every industry – from manufacture, construction and urban planning, right through to the Tour de France 2022, where digital twin software is being used to optimise and streamline the race for the future. Digital twinning is being deployed to increase efficiencies everywhere. So how does a digital twin system benefit the modern data centre industry?
A true digital twin does what it says on the box. It offers data centre companies an accurate, virtual replica of every asset and system across all of your sites into a shared environment – enabling effective management and, crucially in the current era of ever-changing data demands, flexibility and future-planning.
Numbers vary, but the digital twin industry is estimated to currently be worth around $5billion, with experts predicting it will reach around $50-100billion within the next ten years. For data centre companies looking to future-proof, expand or increase their efficiencies – both from a sustainability or budgeting perspective, this is technology we think will become increasingly invaluable.
With comprehensive real-time visibility across an entire data centre estate, a digital twin is a super easy and intuitive way to successfully communicate complex and varied data, arming you with the power to seek anomalies, make changes and improvements and run your facility with the optimum efficiency. And all this with all the accurate data you need, right at your fingertips. Sounds pretty good, doesn't it?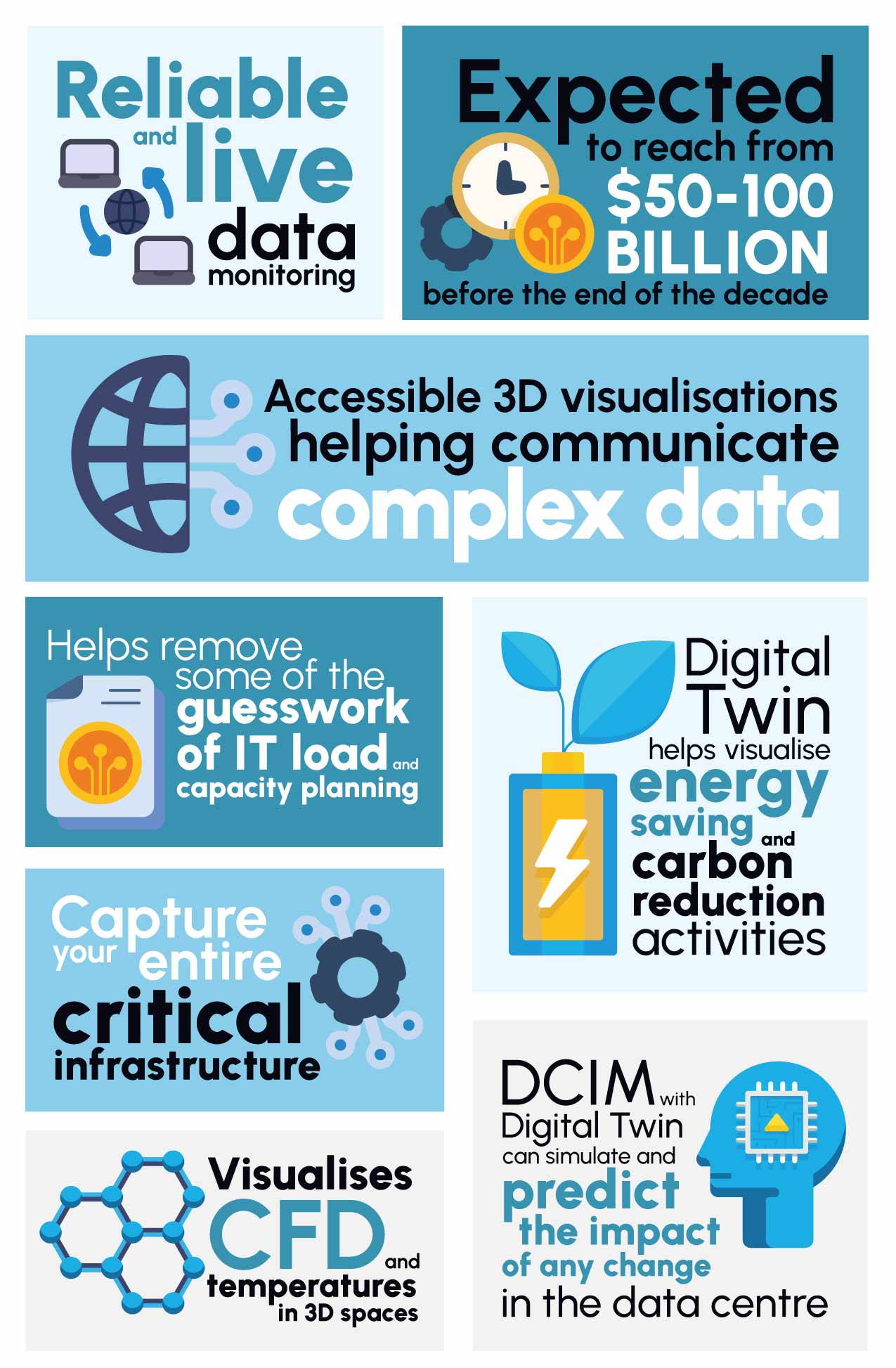 The Key Benefits of a Digital Twin
In a data centre environment, a digital twin is so much more than just a digital representation of a physical structure. In data centres, a digital twin is a powerful tool that allows you to take a virtual representation of all the dynamics of your facility and create a simulation of how each element will behave, in real time, under any operating scenario you can think of.
With the right implementation, a digital twin can bring invaluable benefits to your operations:
Instantly remove guesswork around distribution and deployment of IT loads, making capacity planning easier and more accurate
Clearly identify thermal changes during any upgrade or optimisation, giving operations teams great working comparison models and real-time data overlay
Move away from legacy style DCIM basic monitoring tools to real-time visualisations based on the latest data – updates are at your fingertips
Communicate complex data across teams and facilities clearly and accurately – with full visibility across end-to-end critical facilities estate
Visualise energy saving activities and carbon-emission targets, supporting industry initiatives and corporate responsibility towards reducing carbon footprints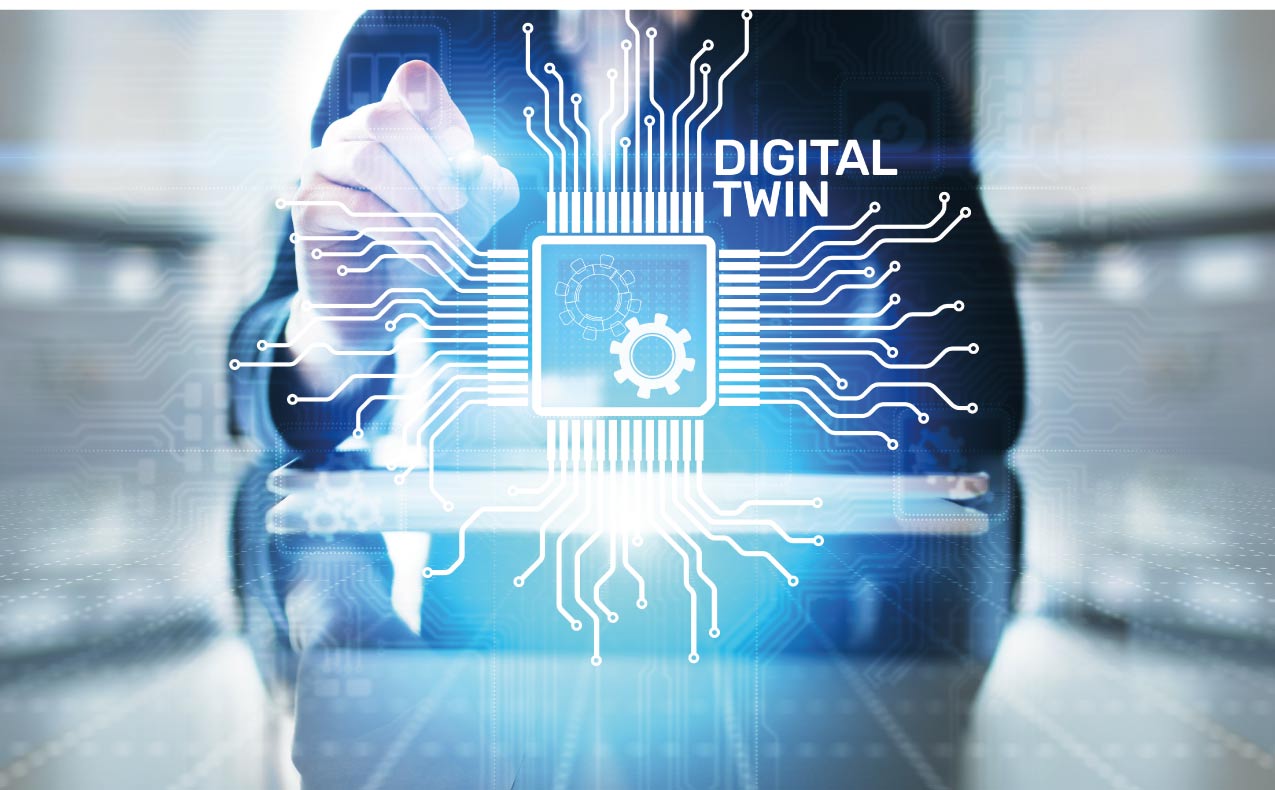 Digital Twin and DCIM = The Dream Team?
DCIM and digital twins are a pretty powerful package. Combined, next-gen DCIM tools and digital twins can provide data centre facilities with the ability to understand and optimise every aspect of data and assets, transforming operations and opening up untapped potential. And we've not even started on the money saving possibilities.
As data centres look to become more automated, digital twins melded with DCIM will become invaluable. AI and machine learning capabilities, combined with the availability of accurate, real-time data from the key areas of the data centre environment has exciting applications. Implemented in a data centre environment, your digital twin could learn things like enforcing optimum temperature controls based on live server load data, maximum use time and react to peaks and troughs of demands.
A digital twin + DCIM model can be used to simulate and predict any moves or changes in a facility before implementation, mitigating any risks before they occur, reducing the possibility of system failures and unplanned downtimes.
Digital Twin models also have the power to encapsulate your entire critical infrastructure – from massive hyperscale facilities to Edge sites with single server rooms. Combined with next-generation DCIM tools, a digital twin empowers you to make decisions with confidence – digital twins of routers, servers and other appliances and systems can act as testing grounds for minor changes that may have significant impacts on optimal data centre performance, without risk. Play out scenarios, test new automations and model new processes before implementing them – without crashing the system.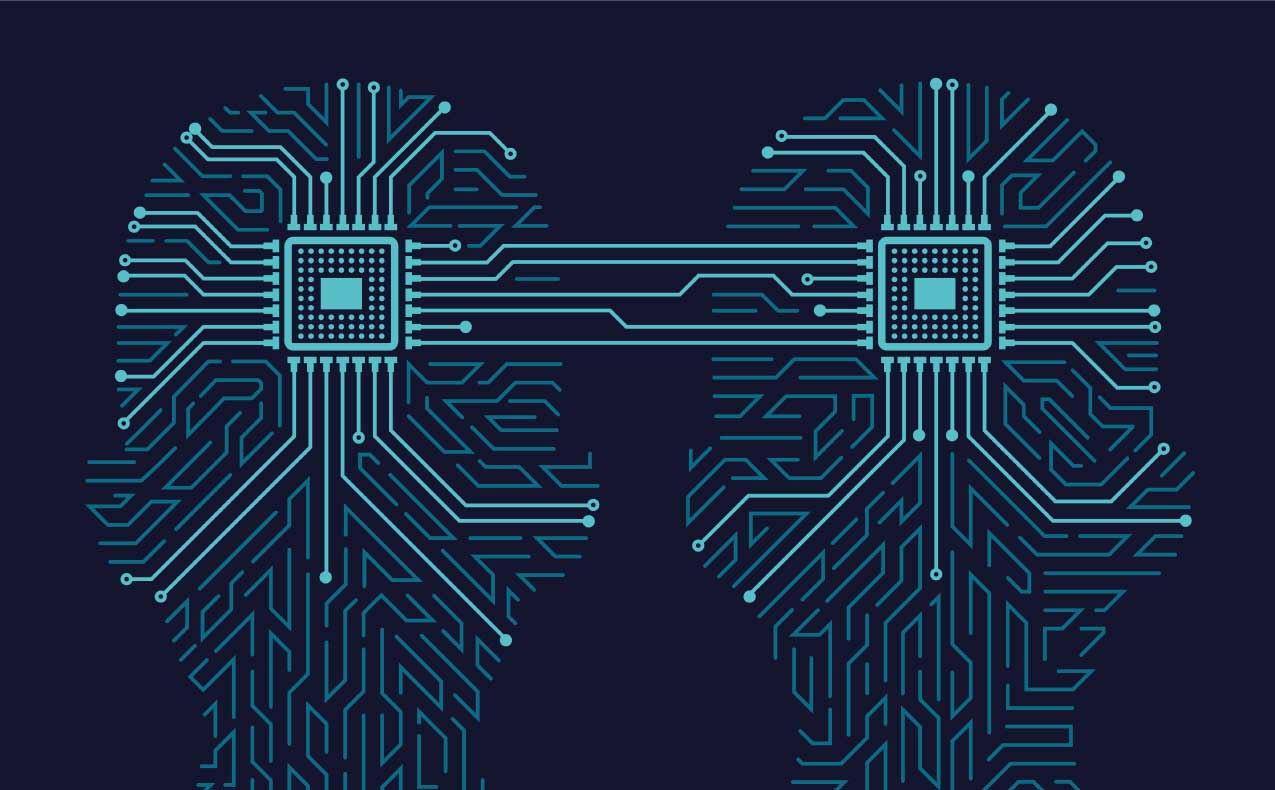 ASSETSPIRE'S Solution
Our solution brings together the best innovative, next generation DCIM software coupled with live, real-time dashboard visibility across your entire data centre estate.
With over 12 years of data centre auditing experience and more than 5 million data centre assets audited globally, we have embedded our audit solution into our core platform to provide the most intuitive data centre inventory solution in the industry.
With intuitive interaction and visualisations, it's easy to support real-time thermal decision making – allowing you to make fast and effective decisions based on completely up to date and accurate data. In fact, our 3DCIM solution can help you save up to 30% in reduced energy costs, without having to change any hardware.
Let us show you how easy it is to revolutionise your DCIM – www.assetspire.co.uk/solutions/datacentre-infrastructure-management