Do you have a system that accurately tracks all assets from inception to end-of-life? For many businesses, tracking assets throughout their lifecycle can be problematic, inefficient, inaccurate and time consuming. And it needn't be.
Having that system that offers complete control over all assets is essential, for accuracy, capacity planning, compliance, and budgeting.
Invaluable to any business, asset management software can optimise and streamline processes, making it easier to track and manage asset life cycles and resulting in saved time and money.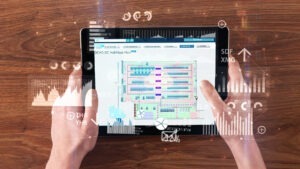 So, let's get into the details of exactly how asset management software functions and how it can improve asset utilisation and optimise your business.
1. Step Up Your Asset Management Process
It's no longer good enough to rely on spreadsheets or basic software to track and monitor your assets.
To ensure nothing gets missed and accuracy sits at 100%, asset management software tools offer a powerful system to track exactly what you have. Only once you have an accurate method of maintaining records of both physical and digital assets can you manage your resources effectively.
And with that, businesses can benefit from the ability of knowing exactly where their assets are and at what stage of their life cycle they're at, without wasting excess time in manual asset tracking and meaning big savings in money in the long run.
2. Asset Capacity Planning Sorted
When you know what you have and what you need with an accurate and real-time inventory of assets, you can properly manage operations to ensure maximum efficiency.
Through measurement and analysis of historical data and current trends, businesses can make easy decisions on capacity planning across all locations. Assetspire's advanced IT asset management software system also offers extra useful features such as threshold alerts and Service Level Agreement tracking.
3. Smarter Budget Management
Gain complete visibility of all asset data with barcode check in/check out functionality to maintain stock levels. The Spire™ platform generates automated low stock level alerts so you can make fully informed budgeting decisions.
Spending is tracked in real time and reporting can detail and show trends on spend, enabling immediate adjustments, prevention of overspending and invaluable future budget planning.
The cost saving opportunities are significant. Full reporting capabilities mean precise tracking of expenses and cash flow. When your budget and costs are as specific as can be, you can plan for the future and secure your business's growth.
4. Enhanced Efficiency with Accurate Data
Assetspire's intelligent solution prevents the replication of data and siloed data accumulating across multiple departments, helping drive standardisation and efficiency.
Stored in one central location, asset data can be accessed and monitored on an asset management app from any device, anywhere, making usage and cost easy to track.
Not only that, existing systems such as supply chain management or accounting can be easily integrated with the Spire™ system.
Informed decisions can be made to improve efficiency and the life span of assets with access to accurate data.
5. Optimised Asset Management Process
Assetspire's asset management software comes with a host of additional features to streamline your processes. Previously manual and time consuming processes such as ordering supplies can become automated and fast.
Spire™ software can be programmed to know when and how to generate orders based on how much inventory is required and when it is due to expire or be replaced, eliminating the need for tedious manual tracking and ordering.
Avoid wasting money on over ordered or late stock and spend that extra time on other important tasks.
6. Mitigate Potentially Damaging Risks
Unidentified areas of risk can cause organisations damaging and expensive losses. Taking steps to mitigate risk by tracking, monitoring and analysing all assets against internal and external factors is made simple with asset management software, so risks can be identified in real time and minimised before they become big problems.
7. Regulatory Compliance Made Simple
The old traditional (and outdated!) system of managing assets via spreadsheet are riddled with errors, missing data and out of date information, leading to the risk of non compliance with regulatory boards and resulting fines.
Assetspire's smart asset management software has been designed with compliance in mind and can integrate with authoritative data sources, so businesses can spot discrepancies between business processes and regulatory policies.
Automated audits and real-time reporting capabilities offer a simple and accurate approach to remain compliant.
Assetspire's Smart Software Solution
Assetspire's asset management software is a game changer. Businesses looking to update their systems to ensure accurate data and a truly optimised space will benefit from our next-gen software that offers immediate visibility over all assets, real-time insights into capacity, assistance with compliance, streamlined processes, improved budgeting, avoided risks and much, much more. Discover the full list of benefits in further detail on our asset management page.
With user defined custom fields, smartphone apps, integration with existing systems and smart stock control, Assetspire's asset management tools are lightyears ahead of outdated and expensive alternatives.
So, if you're looking for better visibility of stock and could benefit from automated low stock level alerts, need a user friendly platform to manage properties or an intelligent solution to balancing the books, speak to us.